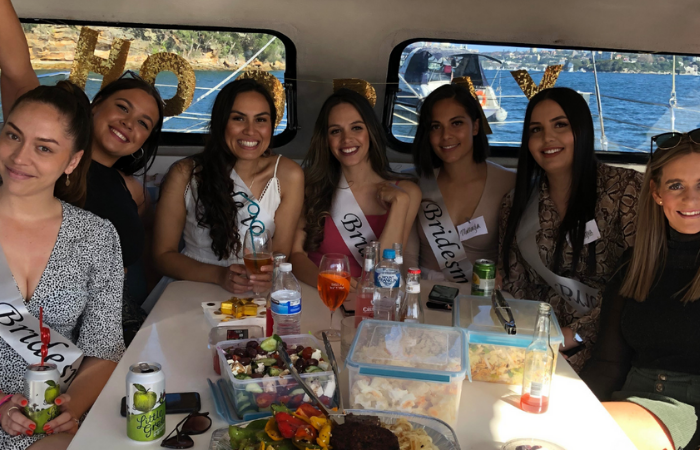 10 Hens Party Ideas for Ladies who Love to have Fun
Let's go through some of the best hens party games ideas for your boat party.
The wedding date is approaching, and you've stepped into top organisation gear for your big day. And then you remember; the hens party comes first! Where are those hens party ideas…Like many brides before you, your hens day plans may have stepped off your radar as you scramble to get all the details absolutely perfect for your upcoming wedding. There's no doubt that it will be one of the most important days of your life. But will your hens day make it into the top 10? All is left riding on the creativity of you and your team of bridesmaids. Time for the hens party games to begin! ????

The aim of a hens party is to give you one final hurrah with your besties before you're tied down to the love of your life for the rest of your days. Girls nights out will never be the same again. Just kidding!

When brainstorming for hens night ideas in Sydney, you will quickly come to understand that there are many different options out there for your once in a lifetime event. One of the best options, of course, is to select a boat on Sydney Harbour as your venue.

So now that's decided. Let us go through some of the best hens party games ideas for your boat party. Whatever the season, everyone is always in a good mood when they're out at sea. ????????


1. Scavenger hunt on the harbour

Brush up your hunting skills as a team and also explore some cool docking points along Sydney Harbour with a scavenger hunt. If you're playing this game in the evening, make sure to equip your guests with a torch. To get on theme, you can hide objects relevant to the bride and provide clues to help players. The supplies for this hens party game will be so much fun to collect!



2. Murder mystery evening

Is your friendship group a fan of murder mystery games? Add a bit of a spooky vibe to your hens event with a wedding themed murder mystery. Our tip is to host it out on the boat deck by candlelight. You should be able to find some great supplies online for this hens party game.



3. Cocktail making classes

Cocktail making is so much fun! Do you remember the days when you would spend the evenings coming up with new creations with your girlfriends. Well now, since you're getting married, it's time to get the recipe right! There are many professionals for hire who can offer a fun class for you and your friends. It is also possible to DIY this activity with some thorough web research and careful shopping.



4. Luxury cruising

Treat your favourite women to a day or evening of luxury cruising. How does leather interiors, 360 degree harbour views, a cocktail lounge and a jacuzzi sound? You can have all of this while cruising around to your favourite spots on Sydney Harbour.


5. Wine tasting

If your girl gang is really into wine tasting in the Hunter Valley, this hens party idea is sure to be a hit. Spice up your hens night with a wine tasting themed boat cruise! An excellent plan for this idea is to bring onboard a French sommelier to really get you into the theme. Get ready to be wowed with knowledge about wine that will prepare you for all those married life dinner parties in your future. ????


6. Karaoke

Most of us secretly like to sing, or wish we could sing. And it's only with your closest friends that you can really tackle those high notes! Because at the end of the day, they will still love you even when they realise how little raw singing talent you have. Bring some karaoke equipment onboard your hens party cruise, and you won't have to worry for a second about your hens party games being dull!


7. Hire a Stripper!

A sure-fire way to make your hens party a success is to hire a stripper. Hiring a stripper is the more traditional approach to organising a hens party - believe it or not! And don't worry, you can tailor the 'naughtiness' to your crowd. There are all types of male and female entertainers. You can choose their outfits and there are a number of other options, too! Do you like a fireman or will tarzan do for the evening?
8. Painting & drawing class or life drawing


Get back in touch with your artistic side and combine sailing Sydney Harbour with a painting class. You and your friends will have the best day cruising to different spots on the harbour and learning to paint what you see. If you're looking for something even more interesting; why don't you try life drawing! If you bring a stripper onboard for the hen he could also double as your painting subject.


9. Dress up for your hens

Another fun addition to any hens party is to ask everyone to dress up according to one particular theme. One of our favourites, and also very popular for hens parties on a boat, is the nautical theme. Dress up as a sailor or maybe even a mermaid! Other great hens party themes that could suit your group include vintage, 70s, hollywood or the bride's favourite series on Netflix!


10. Inflatable fun!

There's a low chance that all of the gals coming to your hens party will have the same interests. Something we can be sure of though, is that they will all certainly love inflatables! You will have a lot of fun at your hens party with this boating favourite. There is a huge list of hens party games you can do in the water with the help of inflatables. Or you could even just float around with a cocktail. If you also bring water guns it's going to get messy. Don't say we didn't warn you. ????