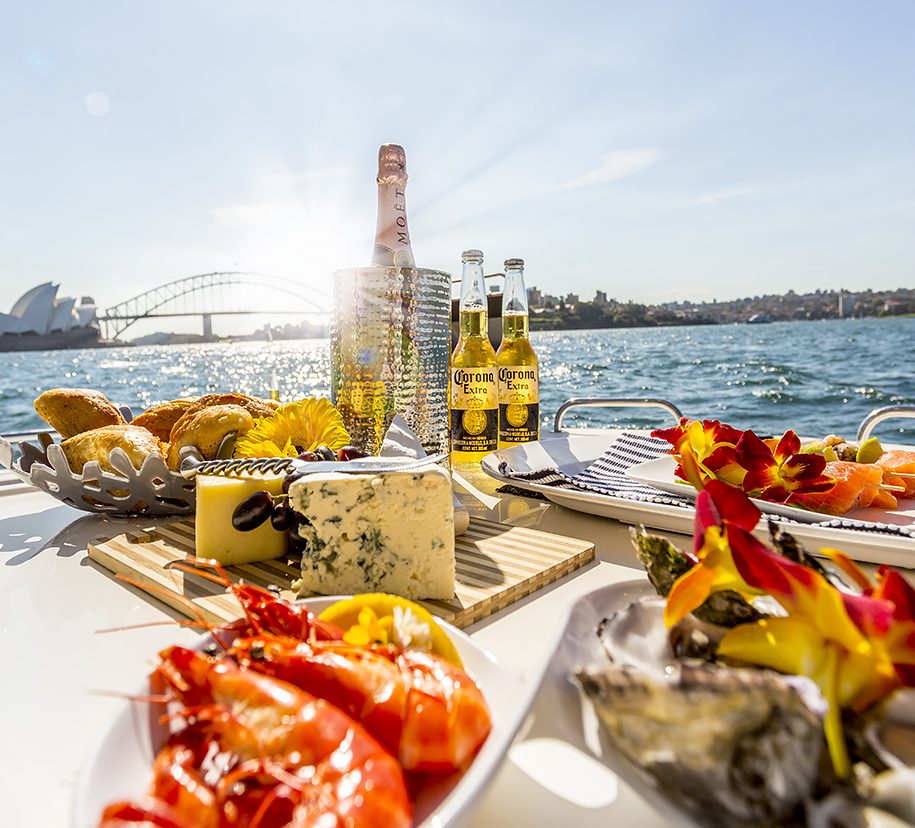 Boat Charter Catering
We often get asked if charters can be catered, to which the answer is of course YES.
If your budget allows it Boat Hire Sydney highly recommends catering for all charters as it takes the hassle out of the day and adds a 5 star, luxury element making for an even better experience. Plus, not to mention the caterers include some of the best and most experienced chefs in Sydney resulting in absolutely mouth-watering, delicious dishes. Read below for some common catering menu options, their estimated price range and charter suitability.
Canapes
Perfect for: Birthdays, Corporate Events, Product Launches, Executive Meetings, Hen's Parties
Canapes are a popular choice for many events for many reasons, they allow a more social and relaxed setting enabling guests to roam around the vessel and make the most of different spaces and views.
Formal Dining
Perfect for: Weddings
While we offer formal dining menus it is not possible on all boats due to the seating required, if this is a requirement of yours then we encourage you to enquire within so we can help suggest a suitable boat. This option is not encouraged for large groups of people unless in a wedding setting, where a limited number of floating function vessels such as Starship Aqua, Starship Sydney, Hamptons Sydney and Bella Vista can accommodate table dining.
BBQ
Perfect for: Birthday Parties, Day Trips, Families, Bucks Parties, New Years Eve charters
Most of our boats have BBQs on board making this a cheap and cheerful option for hungry families, kids and party-goers.
Platters
Perfect for: Hen's Dos, Anniversaries
With a range of platters available, this is the perfect option for smaller groups and shorter length charters. Antipasto, cheese, sushi, fruit and dessert platters are just some of the options to pick from…
Buffet
Perfect for: Weddings, Christmas Parties, School Formals
Buffets are a fantastic way of feeding the masses, they offer a substantial amount of food in a relaxed setting with something to please everyone.
To find out what catering options are available for a specific boat, do not hesitate to get in touch with a Boat Hire Sydney member.