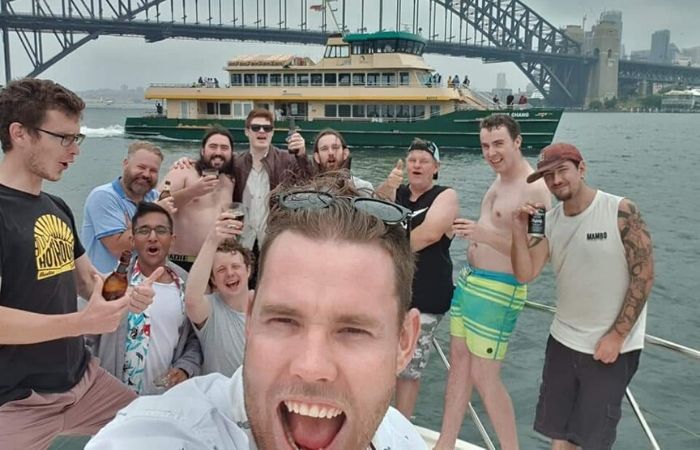 The Best Bucks Party in Sydney
Are you searching for an original Bucks Party idea in Sydney? It's about time you considered a Bucks Party Cruise on Sydney Harbour! Make the groom's big day out unforgettable...
A day spent cruising Sydney Harbour with your mates is a unique and also extremely fun way to send off the groom before his big day. A Sydney Harbour Bucks Charter can be so many different things, it all depends on what you have in mind! One thing is for sure though: a boat is the best venue you'll find for the event.

Boat Hire Sydney provides bucks party charters across Sydney and can create a tailored package based on your group's requirements and overall budget. Whether it be the size of the selected boat, a preference for bikini-clad or topless waitressing staff, delicious food and beverages, or the selection of professional DJs – we at Boat Hire Sydney have bucks parties in Sydney covered and can make the day as easy for you as possible.
With options for BYO food and alcohol, we can recommend a bucks party boat for pretty much every budget and client. Let BHS look after your needs on a luxury boat charter, or a bucks party on Sydney harbour that the groom won't forget.


Bucks Party Tips:
Make the most out of the day by kickstarting festivities early while the sun is out and sea is warm

.

Bring some fun activities on board. Clay pigeon shooting on the Harbour is sure to be a hit with the boys.

If you're a group that likes fishing, why not bring your equipment on board! Make sure to let us know in advance so we can find the right boat and charter route for you.

Poker on a boat is always a lot of fun!




Which boat for your Bucks Party in Sydney?
We offer boat charters from small groups to large events and provide all the bells and whistles that your bucks party will need. Our bucks boats cater from 10-60 guests and we welcome the opportunity to celebrate your bucks party on Sydney Harbour in style.
Some of our bucks party specialists include Aussie Magic, Tiger 2 and Prometheus, as well as many more. Our captains will provide the best days entertainment for your bucks party on your next charter. Please get in contact with us at Boat Hire Sydney to discuss your package options!
Bucks Party Sydney Reviews
"Loved the boat. Second time we've gone on Hoochie Mama for a Bucks party and both times were awesome. "
"Had a bucks party on the boat. 20 guys from 20-50 all had a awesome time. Crew very friendly and made the whole day an enjoyment and easy. "
BHS Bucks Parties are customised to fit your group!
We've organised boat charters for bucks parties of all different types and welcome your ideas and quirky requirements for your unique bucks event on Sydney Harbour.
Contact us at Boat Hire Sydney for bucks parties in Sydney!