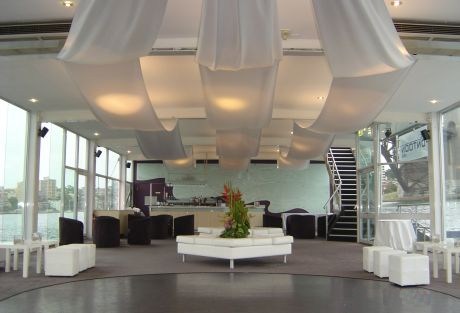 Christmas Party Venues on Sydney Harbour
The many Christmas party venues Sydney has to offer mean there is sure to be one that will suit your requirements, here are some top ideas.

When booking Christmas party venues Sydney offers plenty from which to choose. There are restaurants, bars, pubs and function centres of all shapes, descriptions and sizes to be found throughout the city and surrounding suburbs. One of the evergreen favourites and the most glamorous location option of all remains the Harbour. With breathtaking water views, countless waterfront venues to suit a range of budgets, this has to be the ultimate destination when it comes to Christmas party planning.


Booking a Christmas Party on an Island

For a large scale corporate party, one of the ultimate Christmas party venues Sydney Harbour boasts would have to be Cockatoo Island or Fort Dennison. Located close to the bridge and Opera House, each of these islands has their own distinctive flair and is sure to make a lasting impression upon corporate clients and guests. You can opt to book part or all of the islands, depending upon the scale of your function and the number of guests you'll need to cater to.


Sydney Harbour Restaurants and Bars

You may prefer to book a waterside restaurant such as Doyles at Watson's Bay, or choose from one of the many bars and eateries at Woolloomooloo or Darling Harbour. The harbourside position of these locations lends itself to a harbour cruises to get the evening started, followed by a meal and drinks.


Christmas Parties on a Boat

A typical Christmas party cruise will involve lots of eating, drinking, and good times. It's always a popular choice amoungst the office, as it's not something people get the chance to do too often, and is a great way to blow off some steam with your colleagues. It's easy to organise, just let us know your budget and number of guests and we'll supply you with boat and catering options, or browse the Christmas party boats for hire on this site.


Christmas Party Boat Transfers

By booking a harbourside restaurant or function centre, arriving by boat is an impressivew option. A boat transfer is the perfect way to get the Christmas celebrations underway, or to wind things up at the end. This gives all the guests to the chance to mingle and soak up the fabulous views of the harbour, including famous landmarks such as the Sydney Harbour Bridge and Opera House.

The many Christmas party venues Sydney has to offer mean there is sure to be one that will suit your requirements. Booking early is advisable to ensure that you get the venue that you'd like on a date that works for you, as popular venues often get booked out quickly. Please get in touch if we can help.