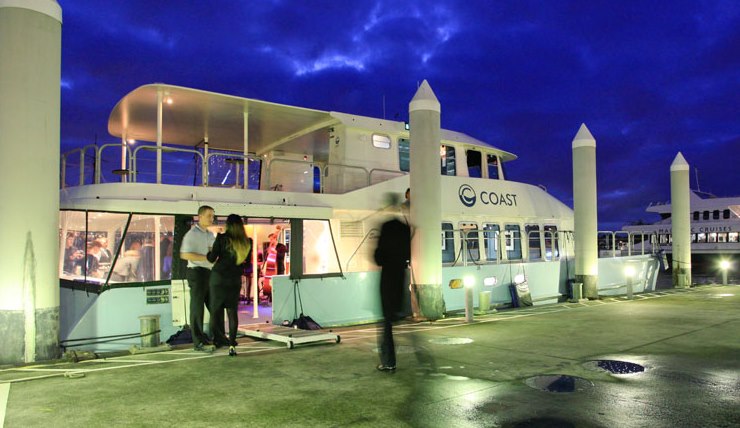 Christmas Party Cruise Ideas
Why everyone loves a Staff Christmas Party on a boat and ideas for your ideal Christmas Party Cruise.

Every year comes voting time again in the office when we vote for what to do at the next staff Christmas party, and time after time a Sydney Harbour cruise comes up top of the list and for good reason:
- for business owners and management there's piece of mind offered by the privacy of being out on a boat. There are options for most budgets and sizes and it's easy to work out the exact cost of the function.
- for all involved it's a bit of a treat - not exactly something you do every weekend, and it's a great to way to bring everyone together and keep them together for a few hours of fun on the harbour.


Christmas Party Cruise Ideas - The Standard Cruise:

A standard Christmas party cruise will run for 4 hours including a 4 hour open bar package and some food. Food is normally casual - either served throughout the cruise in the form canapes and other finger food, or casual buffet style such as a BBQ is also popular for the smaller cruises below around 40 guests.
Restrictions can be put on the bar (eg beer & wine only) to keep things from getting too messy if required. More formal dining is sometimes more suitable for the occasion, which can be done at anchor at a nice bay with views of the beach and city, making a great setting for presentations such as awards.
A standard day time cruise for the smaller casual parties will include a swim in a bay.


Popular Additions Your Cruise:

DJ - all boats come with a sound system to plug in your ipod etc but to really get the party going, a DJ will help to fill up the dance floor.

Laser Clay Pigeon Shooting - great fun and entertainment for groups of 2 to 200 guests. Authentic 12 gauge shot guns have been converted to fire infrared beams which you aim at the clays fired into the air from the boat. At the end of the 'friendly competition', a Champion is presented with a trophy and medals can also be awarded to the runners up.

Entertainers - for a bit of a laugh with your food & drinks.

Sailing Regattas - for the more action based parties, we can charter out a number of sailing boats to race it out for 1st prize, followed by drinks onboard or we can drop you off at a restaurant.


Booking Your Christmas Party Cruise:

November and December are the busiest months of the year so it's best to get in early, particularly for parties of over 40 guests, we recommend booking before September or after if you're more flexible with your date. Please do give us a call or browse through the Christmas party fleet and make an enquiry to start organising your next party.