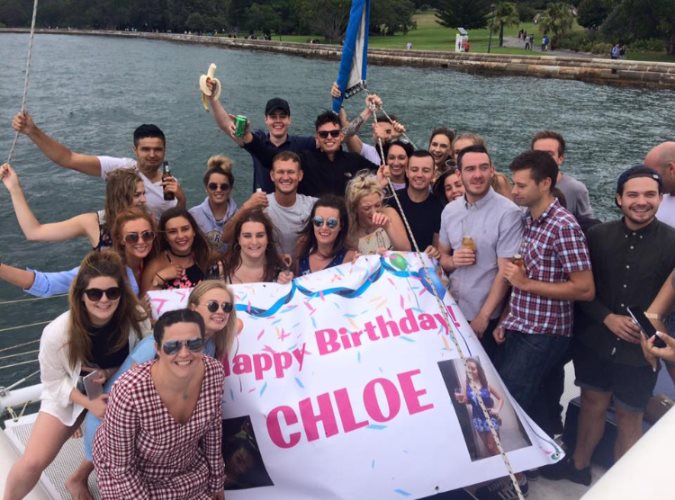 Planning Birthday Party Cruises
Birthday parties on a cruise can offer the best experience leaving lasting impressions on guests. Planning a party on a boat is easier than you might think...


Running out of unique ways to celebrate your birthday? Birthday parties on a cruise can offer the best experience leaving lasting impressions on guests, and can be easier than you might think...


Choosing the perfect boat for your party

Cruise vessels come in various sizes and shapes, ranging from quaint 30-foot yachts to majestic tall ships and luxury super yachts. Your choice of a cruise vessel will depend largely on the number of guests you are inviting, your budget and what sort of experience you're after.
Some things to ask yourself include:
- do you want to swim - some boats have easy access while others don't permit swimming at all.
- do you want a dance floor - some go for the mirrored ceilings, disco balls, lasers and the works, whilst others are happy with a small indoor space.
do you want a DJ?
- are you going out afterwards? most boats can drop you right outside the bars at Darling Harbour and Circular Quay.
- do you want any extras such as Karaoke (popular for 30th birthdays)
- do you fancy treating you and your guests to a quality meal? Many boats have qualified chefs onboard, while other smaller boats allow BYO with the use of the BBQ.



No doubt choosing the right boat one of the most important decisions, but don't forget about these other important points:

Music: A private charter can allow you to use its audio-visual equipment although you may have to bring your own MP3 player and music files to liven up the party.

Theme: A theme can be used to complement the milestone being celebrated. Set the tone of a sweet sixteen party with table linen, balloons, party giveaways and room décor in pastel shades. Enter midlife with a black-tie dinner or organise a rock star party for a young professional. If you're planning a big one, a boat inspection will help you visualise the party's theme and design.

Schedule: Cruises are allowed to stay on the jetty only for a limited time in order to load and unload passengers. Be sure to inform all guests to arrive early at the designated pickup point. Cruises typically go for 4 hours, including an hour or so to anchor up for lunch or dinner.

Security: Security is not an issue when holding birthday parties on cruises. You and your guests can sail away from shore and celebrate away from prying eyes if you choose a private charter vessel. In the case of large younger crowds, we'll organize security guards as a precaution. All boats on this site are licensed charter boats.



Things to Watch Out For

If its an 18th or 21st birthday, some boats require at least 1 or 2 parents on board, we'll let you know if this is the case.

Do you need fridge space for a birthday cake and when will it be dropped at the boat? It seems like a small point but it's best discussed well in advance as fridge space can be a premium on boats.

If you're planning on continuing on to the bars after the cruise, be careful not to make a scene as you disembark, the bars won't be too keen on letting in a large loud group that have been drinking for the last 4 hours already. Also note, if you are on BYO package, you are not permitted to take any open drinks off with you.

Most boats don't allow stilettos but there's no problem in taking them off while you cruise.



Have a Brilliant Cruise!

Special occasions call for unique celebrations and Sydney Harbour is a breathtaking sight, day or night. By day, the Harbour's waters are a stunning blue and appear to be dotted by the sails of yachts and ships. By night, the Harbour transforms into a bewitching sight of glowing lights which serve as the perfect backdrop for your event. Start browsing our list of party boats and please do get in touch with your questions.