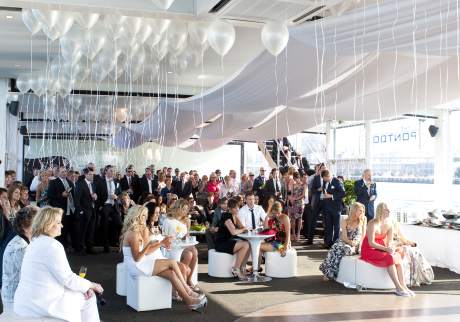 Planning Your Sydney Harbour Wedding Cruise
A Sydney Harbour cruise wedding is one of the most memorable and romantic ways for you and your loved ones to celebrate your special day. Enquire with us today!
Sydney boasts one of the most beautiful harbours in the world, with cozy beaches, tranquil inlets, a passing parade of sails, and, of course, a stunning city skyline. A Sydney Harbour cruise wedding is one of the most memorable and romantic ways for you and your loved ones to celebrate your special day.
While the basics of planning an onboard wedding are the same as regular weddings - guest and gift lists, invitations etc, there are some special considerations that you will need to consider.
What's Different About An Onboard Wedding?
Many couples chose to embark at one of the many public ferry wharves, as they often have waterside parks nearby, with great views and photo opportunities. Cruise vessels may only pull up at a public jetty for passengers to board and disembark - they cannot hang around for extended periods of time, so timing is important. If the wedding ceremony itself is being conducted onboard, the bride being 'late' is not advisable!
Of course this means that all guests must be on time as well. Many people provide a separate note with the invitation that provides the vessel's name and a water taxi contact details, as a 'just in case' measure for latecomers. (There is the chance of a second pickup as the vessel will often need to return the wedding celebrant to shore after the ceremony.)
Many vessels used for weddings offer several decks, usually with the top deck at least partially exposed to the elements. Stairs need to be negotiated between decks, and often to access bathrooms.
Because you will be on the water, there is the chance of the boat being buffered by the elements, care should be taken when choosing clothing - especially for the bridal party. Very long veils and wind can results in interesting wedding photos; leg hugging dresses can make stairs a challenge!
Top Tips For Planning Your Sydney Harbour Cruise Wedding
Assemble your guest list early in order to secure the right boat for your numbers
Have a checklist of 'wants' for your boat: PA, video, flowers, menu, photographer, change room etc
Ensure your wedding dress designer is aware that your ceremony and/or reception will be on board a boat
Consult with your bridesmaids to ensure their dresses are suitable for an onboard wedding
Avoid very high heels - this applies to the guests as well. Boarding, disembarking and negotiating stairs are all more difficult when wearing high heels.
Consider when and where your would like your 'official' photographs taken, e.g. day or night, bush or city backdrop etc.
Be aware of any assistance that elderly guests may need - allocate a younger 'minder' for each of them
Give yourself more than enough time - generally we recommend at least 5 hours for wedding cruises as time really does fly on the day and the last thing you want is to rush thing.
Arrange a viewing of the boat to ensure you are comfortable with the boat and service.
With good planning and attention to detail, a Sydney harbour cruise wedding will be the most romantic and intimate occasion. It is an ideal opportunity for Sydney residents to celebrate the beauty of their city, and for international wedding parties to enjoy the sights of the most beautiful harbour in the world.