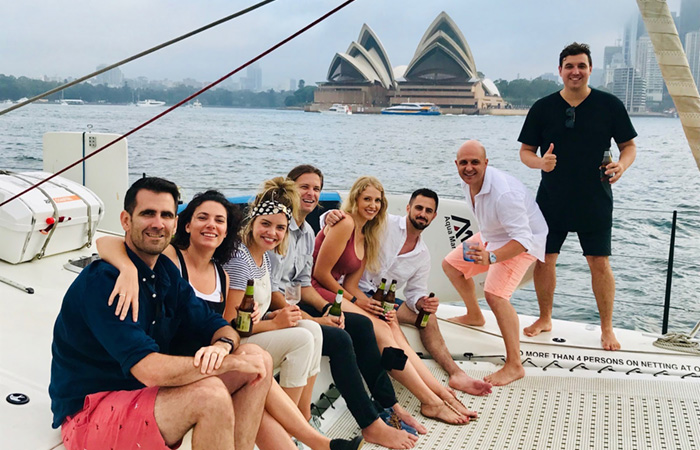 10 reasons why a corporate function on a boat is better
Read up on why your next corporate function should definitely be held on a boat!
1. The views are better
There is no better view in Sydney for your private corporate function than the one that you will get on a boat. Your guests certainly won't complain! You'll be offering them the best event space in Sydney.
2. You won't just have one corporate function room but the whole venue (and it moves!)
Being confined to one function room is no fun, it's so much better to rent out the whole venue! Due to financial constraints, most of the time that isn't possible.
Have you considered taking your private function onboard a luxury chartered boat? It's not an unusual venue for Sydneysiders, but it is the best one.
3. You can leave the event set-up to the boat owner
Event set-up is hard, but you can rest assured that your boat event will be super smooth. Our boats come equipped with a knowledgeable team who can set up your decor, arrange catering, lighting, sound, DJs and anything else you need on the day!
4. There are plenty of entertainment options on board
The entertainment is better on a boat. Your guests will be able to choose from a wide range of activities to keep them occupied. From paddling in the ocean and karaoke to making moves on the dance floor, there is something for everyone. Your corporate event doesn't have to be like every other corporate event - make it fun!
5. If you're stuck for entertainment ideas most people will be content just soaking up the atmosphere
If some of the above-mentioned entertainment ideas are a bit too 'extreme' for your event most people will be happy just taking in the atmosphere. It's not every day that they get to cruise around on Sydney Harbour!
6. Your clients will most certainly be impressed
When it comes to organising your corporate function it is important to take your guests into consideration before choosing the venue. And if it's clients you're inviting, there is no better venue than a boat! The best corporate functions in Sydney are held on a boat.
7. If you're afraid of guests leaving early, a boat function certainly removes that option
Not that you want to trap your guests at your event but if you were worried… we have your answer.
8. Being on a boat is a guaranteed mood enhancer
Let's face it, sometimes even the most well-organised corporate functions can be a real drag. However, if that event is held on a boat the mood changes! Whatever the theme of your function, your attendees will be much happier to be there if you choose the right venue.
9. Even if the topic of your corporate function is a little dry, the sea breeze will make everything better
Being on the Harbour makes everything better. So if you have an important deal to secure, there's no harm in using the sea breeze to your advantage. After all, you do live in Sydney - the best office in Australia!
10. Everybody will be talking about your event for weeks to come!
People will always talk, and you may as well give them something good to talk about. Your corporate function on Sydney Harbour will be the talk in your office or maybe your industry (depending on the scale of your event).