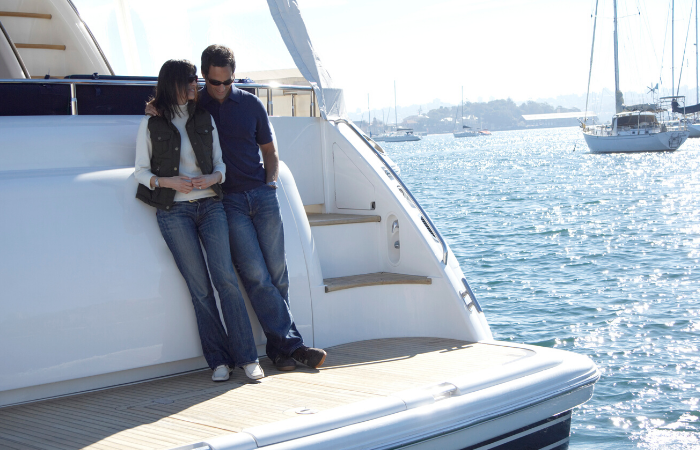 Celebrate your Anniversary on Sydney Harbour
Special anniversaries are made even more remarkable when celebrated on a luxury yacht with the backdrop of Sydney Harbour.
Thinking about what to do for your anniversary in Sydney? A boat charter on Sydney Harbour may just be the idea you've been searching for.
Cruising around on Sydney Harbour has to be one of the best couple experiences that Sydney has to offer. But it doesn't stop at couples. A boat charter is the perfect anniversary experience for whatever type of anniversary you're celebrating!
Why choose a boat charter for your anniversary?
From intimate boat charters to large groups celebrating your special day, there's no better way to celebrate your history and toast to the future. In fact, Best Sydney Walks rates a Sydney Harbour Cruise as the most romantic thing to do in Sydney!
Special anniversaries are made even more remarkable when celebrated on a luxury yacht with the backdrop of Sydney Harbour. Whether you're celebrating your first year together or your 50th, we enjoy nothing more than seeing our guests honour their love for each other.
Favourite charter boats for for anniversaries
Inception, Rockfish II & Hestia. For larger anniversary occasions that include the extended family or a work related anniversary a larger vessel is needed. We like to recommend:
Obsession, Karisma & Galaxy *
*Please note that we make recommendations based on a wide number of factors so we will need to know more about your needs before selecting the ideal boat for your event.
What about romantic things to do in Sydney city after the cruise?
You've hit the jackpot in the Sydney romance stakes with a harbour cruise. But we know that some of you are keen to make it a whole day affair. Here are a few extras that you could add to your itinerary to make it your most romantic day of the year.
Buy tickets for a show at the Sydney Opera House

Set up a tent and spend the evening under the stars on Cockatoo Island

Climb the Sydney Harbour Bridge

Visit one of Sydney's outdoor cinemas during the summer

Have dinner or drinks at the top of Sydney Tower

Spend the rest of the evening at Luna Park

Pack a picnic and spend a few hours in the Royal Botanic Gardens of Sydney
So you've decided an anniversary charter is perfect. What next?
Boat Hire Sydney can help you select the perfect boat, no matter the size of your celebration. With tailored catering and beverages and entertainment packages, we can organise anniversary dinner cruises or overnight stays for those who want to extend their celebrations with a short getaway.
Reach out to Boat Hire Sydney with anniversary plans and we guarantee that every guest (and most importantly the special couple) will leave impressed and delighted.