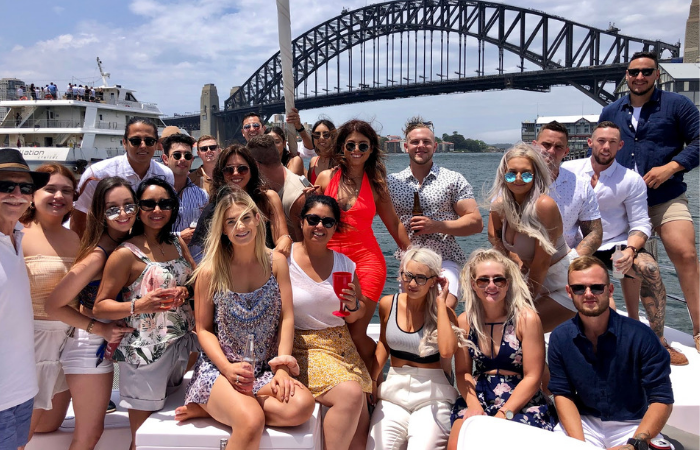 Team Building Games that will Bring your Whole Office Together
Awesome (and creative) ideas on how to best bring your team together for your next office party!
When it comes to building a team, there is no better place for it than in your office. Teamwork is leaps and bounds ahead of going through your workplace duties all alone. When the whole office works as a team, jobs get done quicker and with a smile!

So now that you've decided that team building is an important area for you to work on. You must also recognise that if managed incorrectly team building activities for work can really be a drag. It's like an office party gone wrong. And so, you have to come up with some awesome (and creative) ideas on how to best bring your team together! First things first: why not hire a boat for your team building games?


Team building games on a boat

A boat is, of course, a great place for an office party. But have you stopped to think about how perfect a venue it is for your work team building activities? You can hire a boat that fits your crowd size, from small and sporty to huge and corporate. On the boat you can bring your team members as close together as you desire. And they can't actually run away until the boat docks!

The typical team building boat cruise starts with a sit down lunch followed by a brief presentation. Next steps are then left up to the office manager's imagination. A popular activity in summer is generally swimming, and this can be made into a team building activity by organising competitions of all varieties. Once you add a few props to the event the team building games really start to heat up. Everybody loves inflatables!



Get the team moving with a Scavenger Hunt

It's hard not to love a scavenger hunt, especially if you're hunting for chocolate! A scavenger hunt is a great party game for adults and children alike. If you've hired a boat for the day, the best way to work this activity into your agenda is by docking at a quiet beach or bay along the Harbour. One of the management team will obviously have to get off the boat early to hide all the goodies. The success of this team building game lies in what is hidden and how the teams are organised! It could be fun to add a few riddles to be solved as well.



Laser shooting from a boat

If you're a fan of laser tag you'll be obsessed with lasershoot clay pigeon shooting from your boat. It is a great addition to the activities itinerary for both social and corporate events. And suitable for shooting skills of various levels! Players of this game get to have a bit of fun with rifles that have been modified to shoot harmless infrared laser beams. The target is a piece of clay (hence the name) that is fired up from a launcher, covered in reflective tape. When the laser hits the reflective tape your shots are instantly registered as points.


Drawing games for non-artists


Not everyone is an artist, but most people do like to draw. Even if they won't admit it. Bring your colleagues closer together by inviting them on an artistic challenge. Here's the plan: bring the crayons, the paper and the themes. Split your workplaces into arty teams, making sure to properly distribute design skills. Give each team the instructions to draw the exact same scenario. Let's see who does it best!



Group card & table games

Card and table games can be lots of fun, even when it comes to the office party! The combination of chance, skill and teamwork could be just the team building activity you are looking for. To get the game started make sure to bring all the different types of decks of cards required along to your team building event. It could be worthwhile to ask some team members their favourite card games so they can be incorporated into the schedule. You may even discover a solid poker player in your ranks! Casino tables such as roulette are another popular activity and can be rented from most entertainment providers.




Karaoke out at sea

Not everyone is blessed with amazing vocal cords, but at least we will always have karaoke! Karaoke is a hit activity for most social activities, and it is an excellent way to get to know your colleagues a little better. After all, it's only natural to feel a little closer as a group once you have belted out a couple of Madonna hits. On a boat, the karaoke atmosphere steps it up a notch. There is nothing better than fresh sea air to entice even the shyest singers to come up to the stage.



Stand up Comedy

Lighten the mood at your event with a bit of humour. Comedians are a popular addition to both corporate and social events. Just make sure you hire someone who's humor matches your audience. Another cost-effective way of adding some comedy to your event is to ask some of your more outgoing guests to step into the spotlight. You could end up hosting a comedy talent show!



Get the team to talk!


Communication is the name of the game when it comes to building a strong and professional team. One of the best ways to strengthen your team's ability to communicate is to bring them onto personal terms, i.e. get them to learn more interesting things about one another! Of course, there are many ways to do this. One team-building game that we have become quite fond of is the game that involves placing coins from various years into a jar. On pulling out a particular coin each team member must talk about an important moment in their life from that particular year. Obviously, you do need to make sure that younger team members don't pick up very old coins!


A big jigsaw puzzle

Working in a team requires constant cooperation in order to solve and overcome the puzzles of daily operations. If your employees fail to work as a team, it becomes very difficult to get the job done. So why don't you teach them about this and let them have fun with it at the same time?
For this team building game, you need a few big tables plus as many puzzles as you have teams. Each team works together to build the puzzle while also solving the mystery of some missing pieces that have worked their way into the 'puzzle pile' of another group.
Split the group for a cook-off or cocktails!

With the soaring popularity of cooking television shows these days, this team building activity is sure to be a hit. A team cook-off is not such an easy game to hold on a boat but it is very possible for those dishes that don't require any cooking time such as salads, desserts or even cocktails. We are keen for the cocktail making 'cook-off'!


Market that item on your desk

Employee desks can be a minefield of random objects. And we all know that you are curious about what Linda has on her desk. This fun and quirky team building activity requires everyone in the team to bring a few items from their humble office abode and explain to the whole team precisely what makes that object so great.



Company brainstorming

How about a team building game that also develops new ideas for you to use in your business!
A day spent on a boat brainstorming as a team will bring the office together and also full steam ahead. Splitting the team into a few groups that work closely on a project is a great way to do it. At the end of the day everyone can present their ideas and learnings, and then finally vote for the most viable course of action. The losing team gets thrown in the water fully clothed. Just joking!