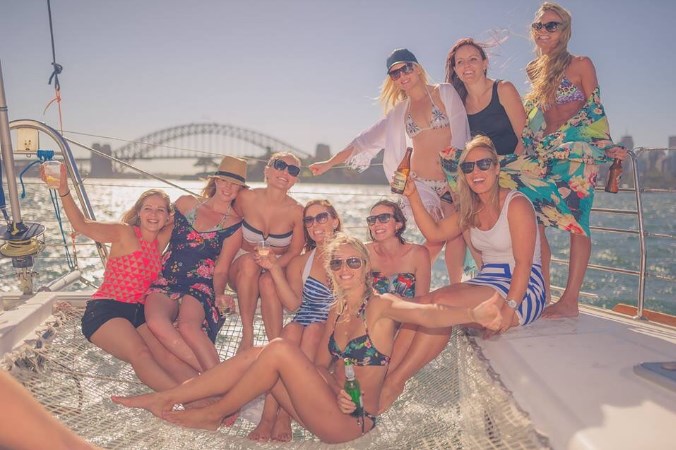 30th Birthday Party Ideas
People generally want to do something a bit different and special for their 30th birthday, which is why a boat party is so often a great way to celebrate. Here are some of our most popular ideas.

People generally want to do something a bit different and special for their 30th birthday, which is why a boat party is so often a great way to celebrate. It is also important to note that a boat is quite an affordable 30th birthday venue when you sit down and do the numbers - much to the surprise of many people!
Firstly, How Much is it Going to Cost?

We find a lot of 30th Birthdays are funded mostly by the guests, perhaps with a subsidy provided by the birthday host to keep the price down per head, and therefore cost is often one of the most important factors. We have a big range of boats to suit various budgets - The below is a very basic guide of what you can expect your 30th birthday celebration to cost:
Larger Party above 50 guests = from $2,600 boat hire

Medium Size Party around 35 guests = from $2,300 boat hire

Smaller Party below 30 guests = from $1600 boat hire

On top of these prices, you need to add food and beverage costs, which will vary significantly depending on the quality of the boat and the catering - the food can be as little $10pp (but average is much higher) and the drinks can be as little as $8 per person per hour. BYO food and drink may also be possible depending on the boat - generally not for groups above 50 guests and surcharges normally apply.

Boat Party Ideas for your 30th Birthday

Idea 1: Straight Forward Cruise
Normally 4 hours is enough time to have a good cruise around the harbour with lunch or dinner and drinks. In most cases people go for the casual finger food or BBQ food for 30th Birthdays, with cash bar meaning everyone pays for their own drinks as they go. For the smaller parties it's often possible to bring your own food & drink.

A great pick for a 30th birthday cruise with a BBQ is Seawind - The Kirralee.

Idea 2: Surprise Party
We can help you plan the perfect surprise cruise for your friend, partner or family member. The easiest way is to carry out the initial surprise in a bar at Darling Harbour before boarding one of our boats, but we can also board everyone onto the boat minutes before the surprise for an even bigger shock!

Our pick for a surprise 30th birthday party is the Hestia boat.

Idea 3: Dance Party

Particularly good if you've got a larger group of 50+ guests we can get a DJ with light and audio equipment onto a boat to really get the party pumping. Good place for a birthday party if your guests love dancing and music.

The Boat Hire Sydney favourite for your rocking 30th dance party is the Karisma boat.


Idea 4: Swimming Cruise

In a 4 hour cruise we can reach some of Sydney's best kept secrets for a swim. The catamarans are particularly good for this and often come with water toys such as canoes, inflatables and snorkels for more fun.

You'll welcome 30 in a splash onboard the XTSea boat!

Idea 5: Karaoke Party

Some people just love the karaoke and being out on Darling Harbour has to be better than being stuck in a little room. Even for those guests that don't want to participate, at least they're out on a boat! Note that only certain boats have good access and mains power to set up Karaoke so please do let us know in advance if you like this idea.

One of the most soicalable style boats for your karaoke 30th birthday party is the Champagne.


Idea 6: Fancy Dress Boat Party

Dressing up with your best friends while sailing around Sydney Harbour is a good way to liven up the evening! We've seen some strange outfits and themes over the years; all in good fun! Some ideas for your 30th birthday party are: 90s theme, nautical, disney, hollywood or a favourite pastime of the lucky birthday gay or gal.
All of our boats are ready for a bit of fancy dress! Take your pick.

Idea 7: Pub Crawl Boat Party

Not such as popular one as it's a bit of a waste of chartering a boat if you're not going to be on it, but nonetheless a very good fun and extravagant way to celebrate your birthday. Not all boats are suited to this so please do discuss it with us before booking.

You can view all of the boats ideal for a 30th birthday celebration on the party boats page!


What should you bring on a 30th birthday cruise?
What you bring aboard for a party cruise is totally up to you. A boat is one of the best 30th birthday venues you can find because not that much is needed for your guests to have a good time. There are some differences of course when it comes to winter 30th birthday party ideas and those that are held in the summer!
Winter Boat Party:


In winter some groups prefer a luxury catamaran and sit down meal sailing around Sydney Harbour.

A good jacket is needed, Sydney can get chilly on a boat!

Red wine is more popular
Summer Boat Party:
Dress up box! Many of our summer groups love to get creative

Sunglasses & swimwear

Extra water games to play with friends such as: clay bird shooting

Meat for a BBQ

Beer, white wine & champagne
Anytime of the Year:
A DJ or entertainer for the day/night

Karaoke equipment

A video projector

Birthday Cake (of course!)