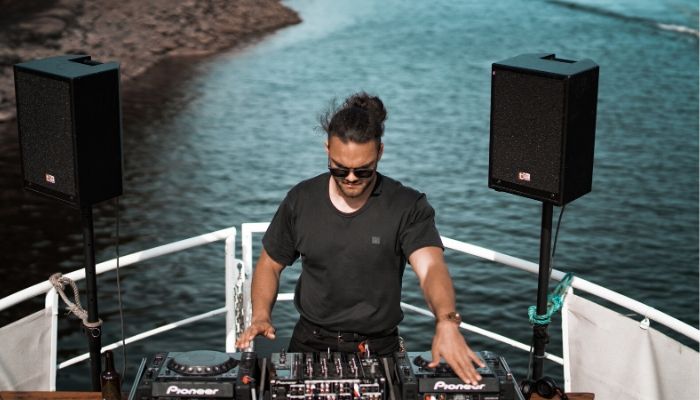 How to Throw an Awesome Boat Party
Throwing a memorable event on Sydney Harbour for your friends and family is much more affordable and easy to organise that most people realise!
Do you want to throw a Superyacht party just like Leonardo Dicaprio? The next best thing to attending Leo's event is hosting your own.



Boat parties are not just for the rich and famous. Throwing a memorable event on Sydney Harbour for your friends and family is much more affordable and easy to organise that most people realise! Let's put it this way: If you can hire a venue anywhere in Sydney for the evening you can certainly hire a boat for your venue instead. The costs per head are very reasonable!


Set a budget

Before you get started with your planning it is very important to set yourself a budget! Maybe your friends are chipping in also? This should all be noted in your budget planning spreadsheet.You should consider all the costs from boat hire right down to the cost of the menu, entertainment and decorations.
Choose the right boat

Selecting the right boat plays a very big part in ensuring that your party is a roaring success. Asking for advice and weighing up your options is super important for selecting the right vessel for your event. At Boat Hire Sydney we are able to guide you in making the best decision for you and your guests. The ideal boat will vary depending on the guests age, occasion to celebrate, planned itinerary and a variety of other factors that can be difficult to get a grasp of without boating knowledge.
Select a great theme

Not every boat party needs a theme, but a theme certainly won't hurt! Many of our customers find that a theme helps to boost the excitement for the day. It's not too often that your friends get to play dress up, and dressing up to go on a boat doubles the fun. Some of the popular themes we've noticed are: the white theme, Hawaii, murder mystery, hollywood, nautical and disney. And as you can imagine themed boat party photos are just brilliant!


Your boat party Checklist


Invites

: For some events it can be a good idea to get the invites out of the way before making the boat selection. Why is that you ask? You really don't want to hire the largest boat available only to find that only 30 of your 200 guests can actually attend. It is also useful for us to know your full guest list before booking a boat because there are some boats that may be suitable when you have older or younger guests on board.

Food

: Will you be bringing your own food on board. First of all check that this is a possibility on the boat that you hire! Next, ask around for any allergies and preferences amongst your guests. On the day make sure to pack all the cold items in an esky. Do not go out on a boat without food, especially if there is alcohol being served. The stress free option to organise your food is a catering package. The catering packages can be customised for your group on many of the boats you hire on Sydney Harbour. Ask us about your options!

Drinks

: Your drinks menu is a very important component of your boat party preparation. There is nothing worse than bringing along a case of beer that nobody on your guest list really fancies! The importance of water should never be underestimated and you want to bring more than enough for all your thirsty guests. Hydration is essential when out on the Harbour; it can get pretty hot out there.

Music

: Prepare that playlist in advance. If you've decided not to invite a DJ onboard you're going to have to do some of the sound prep yourself. The good news is: preparing a boat party playlist is lots of fun. A handy tip is to ask some of your guests about their favourite music so that you can tailor your list to fit the crowd. If you have a boat party theme such as a specific movie then you might do well to bring along the movie soundtrack! Most of our boats have great sound systems with bluetooth connectivity and speakers throughout the vessel.

Decor

: To truly wow your guests you're going to need to think about decorations. For casual cruises with friends this aspect tends not to be as important. However, a casual cruise with a theme always goes down even better if you have plans to dress up the boat's interior as well! In order to be able to decorate before your guests arrive you should always let us know about your plans and approximately how long the set up will take so that we can make arrangements.

Entertainment

: There are so many options for boat party entertainment. You're going to have to think carefully about what you want here, and also what you can afford. Some of the entertainment options we can offer you are : DJs, karaoke, inflatables & watersports, comedians, stippers, live music, fishing, clay shooting, wine tasting, magicians & clowns and more! If you have an idea in mind just run it by us and we will be able to point you in the right direction.
Boat party essentials

Once you've done all the planning you're going to start thinking about what you actually need to take with you for your Boat Party on Sydney Harbour. Here is a list!
Sunscreen

Sunglasses

A great outfit

A hat

Swimmers

Your best smile

Spare clothes in case you decide to jump in the water fully clothed

Your camera (waterproof is recommended)

What happens on a boat party

What happens on your boat party is completely up to you! Generally it is a great day out sailing Sydney Harbour with friends or family. There will be the welcome stage where everyone grabs their first drink and finds a comfy spot to watch the views and chat. The point where everyone gets hungry and the yummy food comes out. And then the partying: drinking, laughing, chatting, dancing and jumping in the water. Depending on your preference you may like to stop at some of the bays that surround Sydney Harbour for a dip or even quick walk on land. If some of your guests prefer not to get wet they can get as close to the water as possible by relaxing on the net of a catamaran.
Best type of boat for partying?

Here are a few of our favourite boats for the best party you've ever had in Sydney! As we said before, the best type of boat for your party will depend on a number of factors so it's best to have a chat with one of the experts at Boat Hire Sydney before making your decision.


Smaller party boats


Rockfish II : Perfect for getting in close to the beaches for a swim and a BBQ onboard.
The Kirralee : One of the most popular features is the open plan layout
Hoochie Mumma : It's one of the most ideal boats for exploring the bays and having a swim and a BBQ.


Spacious party boats

Karisma : Modern boat with 360 degree views from the upper and lower levels.
Galaxy : Unlike most other super yachts on Sydney Harbour, Galaxy I caters to every budget by offering BYO options of food and drink.
Morpheus : Features three separate, spacious entertaining areas.
Ideal for booze cruise

Barefoot : streamlined design, the AC power if you want to bring a DJ, offers unique pick up points outside the city.
Champagne : designed for Sydney Harbour - can get in close to the beaches and everyone is all kept together in one area